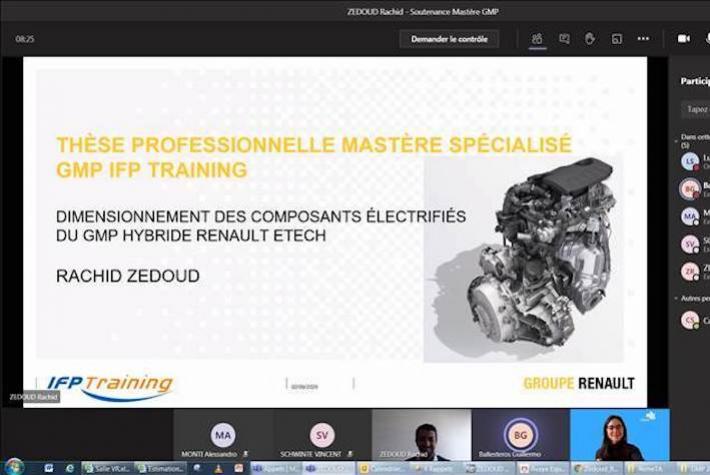 From January 5th to February 5th, a particularly symbolic event took place at IFP School: the 20 students (19 men and 1 woman) enrolled in the Electric and Hybrid Powertrains Specialized Master's® (GMP) brilliantly defended their professional thesis at a distance.

This is the first class of this new "Hybrids and Electric" option, launched in 2019 in partnership with IFP Training, IFP School's historical partner.

Lasting 12 months and taught in French, this training course is tailored for working professionals in the powertrains sector. Classes are held for one week each month and are followed by a 4-month internship in the partner company. This training course meets the expectations of manufacturers and industrials who have to adapt to the new regulatory and environmental requirements of the automotive market.

Due to the health crisis, the students defended their work via Teams in front of a jury made of Guillermo Ballesteros, Affiliate Professor at IFP School and Manager of the GMP Master at IFP Training, Ludivine Pidol, Manager of the GMP Master at IFP School, and industry experts, mainly from Renault and PSA.