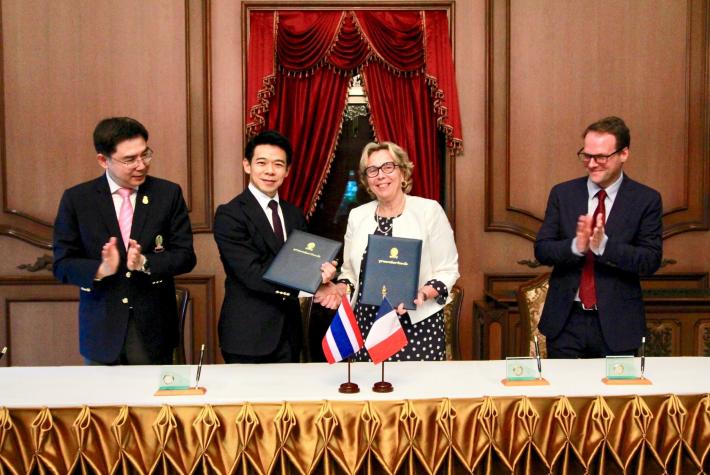 En marge d'un séminaire organisé par le Petroleum and Petrochemical College de Chulalongkorn, pour célébrer ses 30 ans d'existence avec ses partenaires de la première heure, Christine Travers, Directrice d'IFP School, a signé le 18 décembre dernier à Bangkok le renouvellement d'un accord de coopération avec le Professeur Suwabun Chirachanchai, Directeur du College. Les deux institutions continueront ainsi à collaborer pour les 3 années à venir dans le cadre du Master « Petroleum Technology and Energy » de l'université thaïlandaise et étendent leur partenariat dans le domaine de la pétrochimie.
Christine Travers a par ailleurs rendu visite le 19 décembre aux équipes de la National University of Singapour (NUS), partenaire d'IFP School, pour évoquer le nouveau Master commun Petroleum Projects and Offshore Technology qui débutera en août 2019. NUS et IFP School ont également décidé de préparer un second master conjoint, dans le domaine du gaz.
Ces rencontres s'inscrivent dans une stratégie renforcée de l'Ecole de se développer à l'international au travers de conventions et de coopérations académiques avec des universités prestigieuses, pour former notamment les talents amenés à œuvrer en Asie.