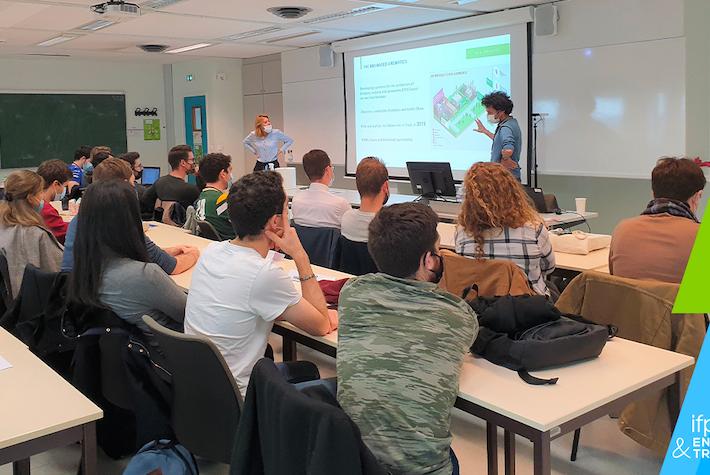 How to make a success of the ecological transition?
 
What are the challenges facing the energy and powertrains sectors?

These are some of the questions raised during the IFPEN & Energy Transition Day, which was jointly organized by IFP Energies nouvelles and IFP School, on October 7, 2021.

This event places the School's students at the heart of the ecological transition, a key topic that will be addressed throughout their studies.

Mr. Pierre-Franck Chevet, CEO of IFPEN, opened the event by presenting the current energy situation, the challenges to be met in research and innovation, and the group's commitment to the ecological transition.

Then, through five thematic workshops co-hosted by IFPEN researchers and IFP School teachers, the students discovered the challenges of the ecological transition and the latest advances in the field.

This year's program included sessions on :
sustainable mobility, led by Gaetano de Paola, Tanja Ivanic, Antonio Pires da Cruz (IFPEN's Transport Business Unit) and Pascal Longuemare (director of IFP School's Sustainable Mobility and Powertrains Center);
CO2 capture, utilization and storage, by Florent Guillou, from IFPEN's Process Design and Modeling Department, and Jean-Pierre Deflandre, co-holder of IFP School's CarMa chair;
the development of offshore wind energy with Philippe Gilbert, from IFPEN's Applied Physical Chemistry and Mechanics Department, Christophe Peyrard from EDF and Christian Pauchon, a lecturer at IFP School;
biofuels and bioplastics, led by Antoine Margeot, from IFPEN's Catalysis, Biocatalysis and Separation Department, and Perrine Babin, a lecturer at the School's Processes for Energy and Chemistry Center;
plastics recycling, led by Adrien Mekki-Berrada, from IFPEN's Process Design and Modeling Department, and Céline Pierre, Program Supervisor of the IFP School's Processes and Polymers program.
The day ended with a virtual roundtable discussion moderated by Maxime Schenckery, Director of the IFP School's Energy Economics and Management Center, in the presence of senior managers and experts in the field: François Kalaydjian (IFPEN), Élodie Le Cadre Loret (ENGIE Research), Laurent Allidieres (Air Liquide Hydrogen Energy World), Philip Llewellyn (TotalEnergies) and Julien Roussel (GreenGT).