Accreditation of prior experience and learning "VAE"
Do you wish to apply for a "VAE"?
Alumni
I would like: to have my IFP School degree verified, to have my IFP School degree validated to work in Canada or to obtain a transcript. Who may I contact?
I wish to contact the IFP School AAID Alumni Association. How can I do so?
I would like to make a gift to support the development of IFP School. How do I donate?
In partnership with the Fondation Tuck, IFP School collects private donations from its graduates for its annual fund, the Alumni Fund.

The funds collected are intended to finance Excellence Scholarships for brilliant students and/or educational innovation projects.

To make your gift by credit card, visit our secure HelloAsso platform.

To make a gift by check or wire transfer, please visit the Fondation Tuck's website.

Upon receipt of your gift, the Fondation Tuck will send you a tax receipt.
Candidates - Admissions
I need to provide a portrait: what is the required format?
When submitting your application, you must attach a recent photo of you taken in full-face view, which should respect the following measurements: 35 mm wide x 45 mm high.
On this photo, you must look directly in front of you as shown on the model below: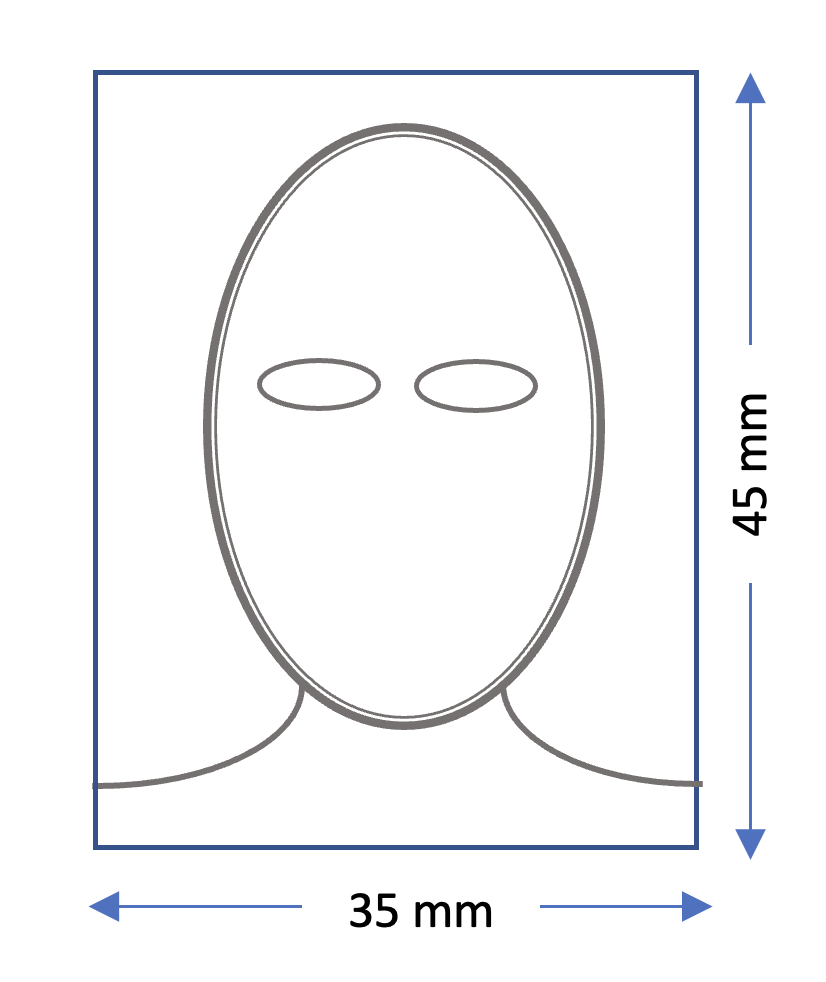 What level of studies is required to be able to join IFP School?
To join IFP School, you must have four or five years of higher education, such as a French Engineering Degree (5 years) or an American Bachelor of Sciences (4 years) or an equivalent title.
Can international students apply to IFP School?
Yes, of course. Every year, about 50% of our students are international students. This diversity is an asset and a precious resource for the School.
What is the deadline for submitting an application?
Traditionally, the application period begins on November 15th of the current year (n) and ends on March 31st of the following year (n+1). Applications are submitted exclusively electronically via our online application.

Please note that you have one month to complete your application. After this period, your file will be deleted from the database and you will have to create a new application.
Can working professionals join IFP School?
Working professionals can join IFP School as part of ongoing training and development or they can also choose to self-fund their studies.

Amongst its training programs, IFP School offers the Executive Master of Management in Energy, tailored for working professionals in the energy sector. Taught in English and covering a period of 18 months, it is jointly organized with the BI Norwegian Business School.
To whom should I send my cover letter?
Your cover letter must be attached to your online application. It should be addressed to the Secrétariat Général of IFP School.
Are letters of recommendation really useful?
Your letters of recommendation are valuable elements of your application. They allow us to grasp your personality, better understand your professional project and better evaluate your background. However, they can be attached later, after having validated your application, but you must do so before March 31st.
Do I have to wait until I have all my documents before validating my application?
It is preferrable to submit an application that is as complete as possible.

If you are waiting for documents (for instance transcripts, letters of recommendation, an internship approval, grades after an English assessment, your resume in a second language, etc.), you can submit your application and attach missing documents later.

Please note that you have one month to complete your application. After this period, your file will be deleted from the database and you will have to create a new application.
I don't have an excellent academic record, am I likely to be admitted?
Selection at IFP School is rigorous. We take into account a set of elements pertaining to your academic background, your experience, your personality and your professional project.
I would like to apply to several training programs at the same time. Is it possible?
When you submit your online application, you have the possibility to select up to three training choices.

Your first two choices are the most important. They may change during the course of your application and as a result of our exchanges and contacts with companies. Please remember to justify your choices and their order of preference in your cover letter.
I am a fourth-year student (Senior year), can I apply to join IFP School at the end of the current year?
IFP School has signed double-degree agreements with more than 40 European engineering schools and universities (see the list). Please note that you must first obtain written authorization from your Department of Studies in order to apply.
Are there training programs open to students who are not graduates from an engineering school?
All IFP School's programs are open to graduates with four or five years of higher education (such as an American Bachelor or according to agreements signed with more than 40 institutions—see the list). When you are about to apply, make sure that your background corresponds to the program you wish to follow.

Depending on your initial training and status, the School issues:
the Specialized Engineering Graduate Degree, recognized by the French Commission des titres d'ingénieur (CTI),
a Master's degree (equivalent in France to the Diploma of Applied Advanced Studies -DESA) (this typically concerns international profiles).
How do I apply for the Advanced-master degree - Mastère Spécialisé "Geo data management for energy mix" program?
Can all programs be done as Sandwich Degrees or Masters?
All programs leading to the Specialized Engineering Graduate Degree (DIS) or the Master's Degree (Diploma of Applied Advanced Studies – DESA) can be followed as part of a sandwich training, with the exception of Energy Technology Economics and Management.

In addition, the research-oriented Master's degree in Environmental, Energy and Transport Economics (EEET) can also be followed in sandwich training; please note this Master is co-organized with other partner institutions.
What level of English is required to join a training program taught in English?
To be admitted to one of our programs taught in English, you will have to certify, before the Admissions Board, that you have the following minimum level in one of these tests:
TOEIC 850
TOEFL 86
IELTS  6.5
Cambridge English Scale (First, Advanced, Linguaskill,…) 175
Candidates - Financing your studies
What is the cost of a year of studies at IFP School?
The cost of tuition depends on the student's status and the funding they have selected. It is partially covered by French public funds, and/or in part by financial contributions from companies that help cover the student's living expenses.

To give you an idea of costs, we estimate that your living expenses will amount to, on average, 1,200 euros per month.

Most of our students are sponsored by a company or an institution that finances their living expenses during their training, through an apprenticeship or a scholarship, which allows them to devote themselves fully to their studies.

How does a sponsorship work? The company and/or the institution makes a donation to the Tuck Foundation, recognized as a public-interest institution and a historical partner of the School. The money contributes to the constitution of a scholarship fund. The Tuck Foundation then awards a monthly scholarship to the student selected by the Admissions Board throughout their entire training at the School. In addition, during the internship period, the student receives a monthly allowance directly from the sponsoring company.
I am a young student and I recently graduated. How can I finance my studies at IFP School?
If you are a young student with no professional experience and you have earned your degree less than a year before the time of the IFP School Admissions Board, you have three possibilities:
 
Sponsorship: you can follow your courses at IFP School as either a full-time student studying at IFP School during the academic year, and finishing off with an internship in the company that sponsored you, or  alternating work and studies and therefore having training periods at the School and work periods spent in the sponsoring company. Throughout your studies, you will receive a monthly allowance to cover your living expenses: a scholarship of 1,400 euros (usually given as lump sum) awarded by a Foundation during the period at the School and a monthly salary given by the sponsoring company during the internship.
 
Apprenticeship: you alternate training periods at IFP School with training periods in a company. As an apprentice, you are an employee of the company, on a fixed-term contract, and receive a monthly wage, recommended to be equivalent to the amount of the scholarship given to sponsored students. This type of financial backing only applies to companies under French law and to young people under the age of 29 aiming for a Specialized Engineering Degree (DIS). For practical reasons related to visas, it mainly concerns citizens of the European area. In order to benefit from this type of support, non-nationals from the European area must be in France the year preceding the start of the academic year at IFP School.
 
Other types of financial backing: scholarships from departments, foundations or other institutions, Excellence Scholarships awarded each year by the Tuck Foundation to a few students.
I am a working professional. How can I finance my studies at IFP School?
If you are a working professional, you have two possibilities to finance your studies at IFP School:
 
Ongoing training and development: if you have an employment contract with a company, you can follow your courses at IFP School as part of a continuous training program. The company will cover all your tuition fees, which amount to 30,000 euros for the  academic year 2022-2023 (standard rate applying to all programs except international double-degree programs).
 
Self-funding: you can also choose to finance your studies yourself.
If I can't find an industrial support, can I finance my studies myself?
Very few students who finance their studies themselves are admitted to IFP School. The support of a company will strengthen your application and above all, enrich your applied training.
How can I obtain an industrial sponsorship?
As soon as you submit your application, it is up to you to study the various possible sources of funding for your studies by contacting companies in the sector that interests you (sponsorship by a company, apprenticeship, etc.).

In addition, throughout the application period, we provide you with a list of sponsorship and apprenticeship offers from our main industrial partners. Please note that this list is not exhaustive, competition is fierce and offers are filled quickly!

So start looking for funding as soon as possible. You can also contact companies through recruitment sites and job fairs.
Does IFP School award scholarships?
Scholarships, which in the past were given by IFP School, have long since been discontinued due to the decline in public endowment.

However, the School conducts a fundraising campaign among its graduates to contribute to an annual fund, the Alumni Fund.

This annual fund finances Excellence Scholarships, which are awarded by the Tuck Foundation on the basis of rigorous criteria to students with no financial support from a company and who have an exceptional academic background and professional project.
Are recipients of the Eiffel Scholarships admitted to IFP School?
Yes, but please note that the selection schedule for Eiffel Scholarships does not correspond to ours.
Candidates - Language proficiency
What is the expected level of French for international students?
International students are encouraged to attest to their level of French by attaching a language test such as TCF or a diploma such as DELF/DALF or a certificate of French language training stipulating the number of hours completed.
What is IFP School's ETS code?
Can I send my English test results after having applied?
If you have applied, but you are about to take an English placement test in the coming weeks (we accept the following tests: TOEIC, TOEFL, IELTS, Cambridge (English Scale), you can send us your results later, provided that you do so, before the end of the application period, which is March 31st.
Candidates - Interviews and Admissions Board
When are selection interviews conducted?
In general, selection interviews take place between January and April. They are held by videoconference.
When does the Admissions Board convene?
Candidates - Visas
I am an international student and I have just applied to IFP School. What are the steps to follow to apply for a visa?
The visa* procedure for an international student is launched when he/she is officially admitted by the School during the Admissions Board of May. An official letter of admission, signed by the Management of the School, is sent by mail. This letter allows you to begin the procedure with the consular services.
(*VLS/TS: long-stay visa valid as a student residence permit).