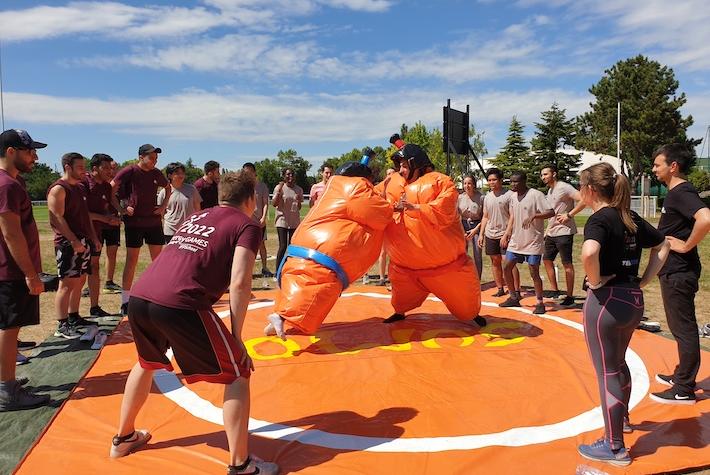 The Energy Games, organized each year by the members of the IFP School Student Office (BDE), are one of the School's flagship events. This year, the Energy Games took place on June 2nd, 2022 at the Stade du Parc in Rueil-Malmaison.

This afternoon brought together students from all IFP School training programs for a series of sporting and fun challenges.

"Our students look forward to this gathering. It is an opportunity to get together around sport values such as cohesion, solidarity, tolerance, fair play and to create beautiful memories. I would like to congratulate Mario Sfeir, President of the BDE, and his team for the perfect organization of this event," says Hélène Bourg, Students and Alumni Liaison Officer at IFP School.

In good spirits and under the sun, the 16 teams pit against each other in a series of activities including: giant human table soccer, Bubble football, sumo, tag rugby, Ultimate Frisbee, dodgeball and the béret game.

The afternoon ended with the awards ceremony:
First prize was awarded by Christine Travers, Dean of IFP School, to the Energy and Powertrains team;
Second prize was awarded to the Energy and Markets team by the IFP School Alumni Association, represented by Medhi Akker (2018 ENEP graduate);
Third prize was awarded by Christine Travers to the Energy and Products team.
Congratulations to all the winners and students for their achievements! A big thanks to our partners for their sponsorship: IFP School Alumni Association and Le Crédit Mutuel.