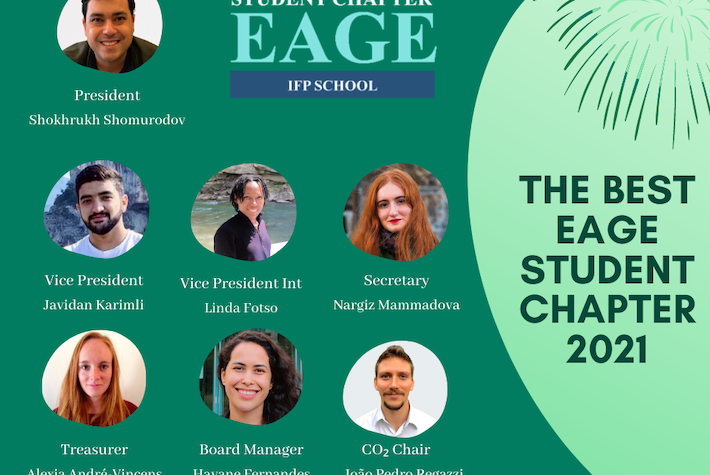 IFP School's EAGE Student Chapter has won the Best Student Chapter Award of 2021, given by the European Association of Geoscientists and Engineers (EAGE).

With this award, the EAGE wanted to celebrate the ongoing work and involvement of the IFP School Student Chapter members, especially their participation in student challenges and their implication in the organization of online events.

This year's chapter officers are: Shokhrukh Shomurodov (Reservoir Geoscience and Engineering - RGE), President, Javidan Karimli (Petroleum Geosciences - PGS), Vice-President, Linda Fotso (PGS), Vice-President (internal), Nargiz Mammadova (PGS), Secretary, Alexia Andre-Vincens (RGE), Treasurer, Hayane Amorim Fernandes (RGE), Board manager, and João Pedro Regazzi (RGE) - CO2 chair.

"Despite all the obstacles we faced, we managed to organize virtual events and webinars, to engage everyone interested in geosciences and engineering, sometimes in cooperation with other student chapters at IFP School such as the SPE or the AAPG" says Shokhrukh Shomurodov.

Congratulations to the whole team for this great award!