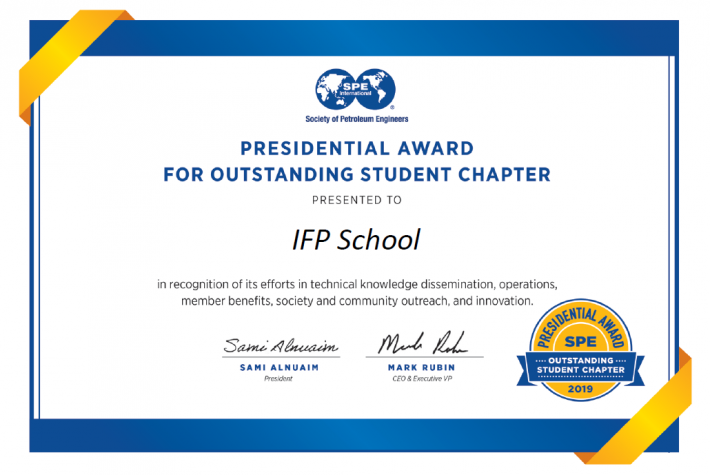 The Society of Petroleum Engineers (SPE) recently announced that it is awarding a Presidential Award for Outstanding Student Chapter (PAOSC) to the SPE Student Chapter at IFP School. This is a first for the SPE student section of IFP School! The highest distinction a student section can receive, this award is given to 5% of eligible SPE student antennas among the 396 worldwide (compared to 10% in previous years). This award honors student sections of the SPE that contribute to strengthening links with industry, engaging the network of SPE members, and contributing to professional development and innovation.
"Congratulations to the SPE Student Chapter of IFP School and especially to its management team: Mohamed Al Balushi (president), Floriane Mortier and Sana Djelidi (vice president), Antoine Auteroche (secretary), Ricardo De Souza Fasolo (membership chairperson) and Maxime Benaniba (treasurer), for their commitment and work this year!" says Jean-Pierre Deflandre, IFP School SPE faculty advisor.
"It is also a testament to the ongoing work of previous student chapters who paved the way by receiving the Gold Standard Award three times, in 2013, 2015 and 2018," says Jean-Pierre Deflandre. "We are grateful to SPE France for the ongoing support it has provided to our Student Chapter since its creation in 1995 and to SPE South, Central and East Europe, and in particular to Jean-Marc Dumas, its director. We also thank the partners who have widely supported our projects and initiatives over the years - the Alumni Association, Bardot Group, Doris Engineering, IFPEN, Lundin Petroleum, OMV, OPC Consultant, Perenco, TechnipFMC, Total - and also all those who have hosted our students at their sites."
Members of IFP School's SPE Student Chapter will receive this award on October 1 at the Student Awards luncheon at the SPE Annual Technical Conference and Exhibition (ATCE) in Calgary, Canada.