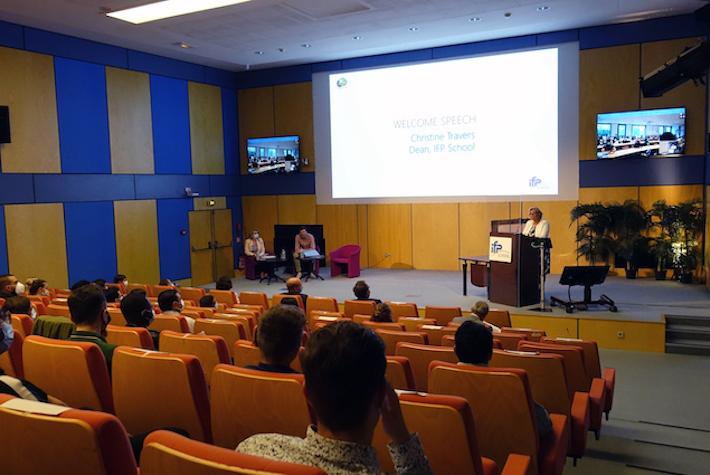 A new academic year has begun at IFP School!
On Wednesday, September 1st, 2021, the students of the 2022 class started their academic year on the Rueil-Malmaison campus.

On the program: a warm welcome, the induction speech given by Christine Travers, Dean of IFP School, a presentation of the digital environment and tools by Clément Cahagne, head of the Educational Innovations and Immersive Realities hubs of the Lab e·nov, meetings with the directors of the centers, the program managers and the educational assistants.

The start of the new school year was 100% in-person and was marked by the need to be cautious, always respecting health measures and wearing a mask.

Courses started on Thursday 2nd in "phygital" mode if necessary: physically for students presents at the School and remotely, synchronously or asynchronously (for time zone reasons) for the other students who could not yet join the campus.

In the evening, the students were invited to a welcome cocktail offered by the Mayor of Rueil-Malmaison, Mr. Patrick Ollier, in the presence of Pierre-Franck Chevet, President of IFPEN and Christine Travers.

Their integration continued on Friday, September 3rd. Twenty teams set out to discover Rueil-Malmaison as part of a scavenger hunt organized by the city's tourist office.

After having lunch on the grass, the new intake took part in several fun and sport activities at the Château de Vert-Mont. At the end of the day, Christine Travers rewarded the top three teams.

Congratulations to everyone! Have a great academic year!

View the photos of the kick-off of the school year.