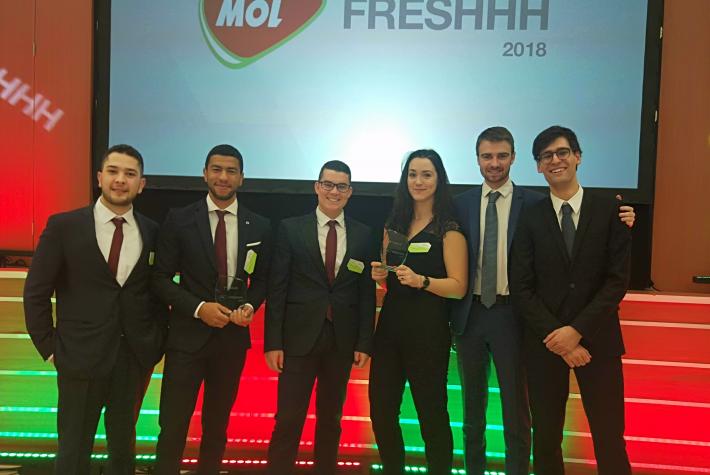 On January 31st, during the final round of the "Freshhhh" international competition, two teams of IFP School students were rewarded, among more than 1000 teams from more than 70 countries. The "Road to Buda" team, made up of Walid Chamma, Alexis Paillier and Hamza Filali from the Energy and Processes program (ENEP), shared the first prize (20,000 euros) of this 12th edition with the "Snelle Planga" team from Delft University. The "Oil'believable team", composed of Julien Canu, Anaëlle Cann and Léonard Laubal-Heberle from the Energy and Markets program (ENM), won the third prize of €5,000.
Organized by the oil and gas group MOL, "Freshhhh" is an online competition in which participants must manage an oil company. The teams make daily decisions regarding land use planning, refinery construction, retail network development, creation of the best product portfolio and financial management of the necessary investments. 
For the final, held at the Százhalombatta Duna refinery (Budapest), participants from the last six qualified teams assessed the MOL Group's 2030 strategy, developing solutions to the potential challenges of each sector of activity and presenting their ideas on how to attract young talent to the oil and gas sector. "This competition is an excellent opportunity for our engineering students to showcase their technical knowledge, strategic analysis skills and ability to convince," notes Jean-Luc Monsavoir, Director of the Centre for Processes for energy and chemicals at IFP School.