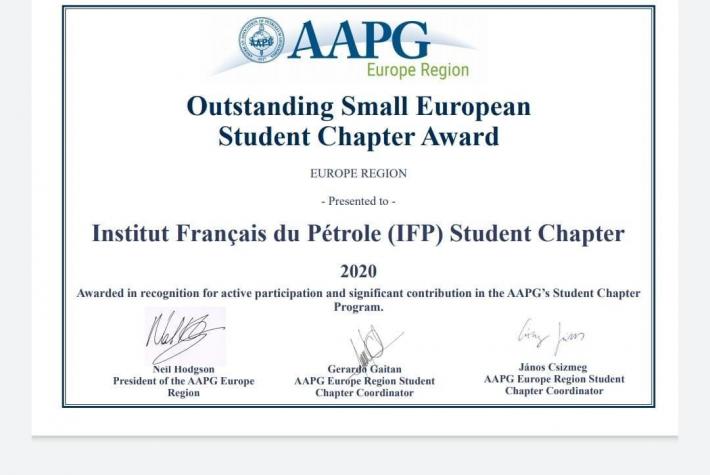 The American Association of Petroleum Geologists (AAPG) has awarded the IFP School AAPG Student Chapter its "Outstanding Small European Student Chapter Award" for its active participation.

"My team and I are very proud of the work we have done over the past year," said Paula A. Leal Velasco, former President of the IFP School AAPG Student Chapter (2018-2019 term).

The Executive Board also included: Anthoine Mathivon (Vice President), Julie Monluc (Treasurer) and Christian El Rahi (Secretary), all graduates of the Petroleum Geosciences program.

Founded in 1917, the AAPG is a professional association focused on geology that brings together more than 30,000 geologists, geophysicists, CEOs, managers, consultants, students and academics.

"This award is a recognition of the quality of the training courses delivered by IFP School" notes Eric Deville, professor at the IFP School Georessources and energy Center and advisor to the Student Chapter.

The IFP School AAPG Student Chapter currently has 23 active members.

Highlights for 2019 include a conference with Denise Cox, President of the AAPG, and Jeff Aldrich, Vice President of the AAPG, on March 9th as well as a field trip to Greece to study the geology of the Gulf of Corinth from March 29th to April 2nd.