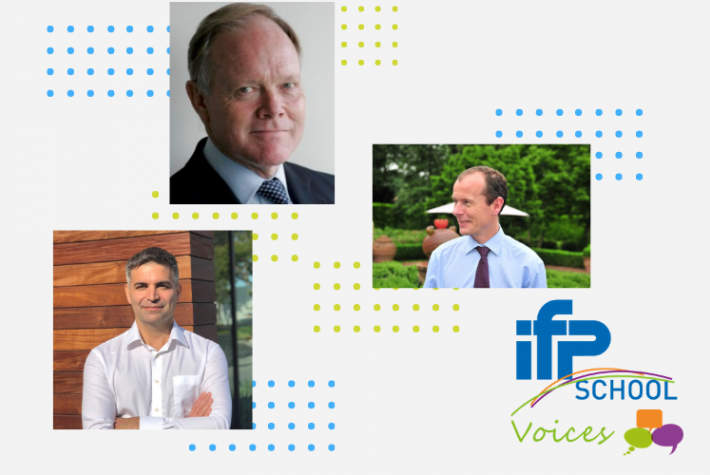 IFP School Voices, the series of webinars launched in November 2020 by IFP School for its alumni and students, continues to gain momentum.

These video-conferences, held in English, aim to promote the expertise of IFP School alumni in the energy and sustainable mobility sectors. The series also contributes to strengthening the IFP School Alumni network.

The webinars take place via Zoom on the first Tuesday or Thursday of each month at 6 pm. They last 45 minutes and are free of charge upon prior registration. Each edition attracts about 200 registrations.

Given the success of the first two conferences, the School's management decided to open the webinars to the staff of IFP Energies nouvelles and the group's subsidiaries.

The 2021 program got off to a strong start with the following presentations:
January 7th: Xavier Milcent (EGE 1994), Global Marketing Excellence Manager at ExxonMobil Chemical – "The plastics industry: a sector in need of (re)building?";
February 4th: James P. Bond (ECO 1975), Senior Advisor at the Centennial Group – "Financing the energy transition";
March 4th: Olivier Lobey (APP 1997), Technical Lead at Huawei Technologies' EV Powertrain Lab – "V2X, the EV powertrain at the heart of the power grid".
The program continues with the participation of Laurent Escaré (GOP 1995), Senior Geologist – Geosciences Leader at Storengy, who will discuss the role of subsurface in the energy transition on April 6th, at 6 pm (Paris time). Don't miss this new event!

For further details on our webinars, visit the dedicated section on our website: IFP School Voices. If you have any questions and/or suggestions, please do not hesitate to contact us: alumni-ifpschool@ifp.fr.