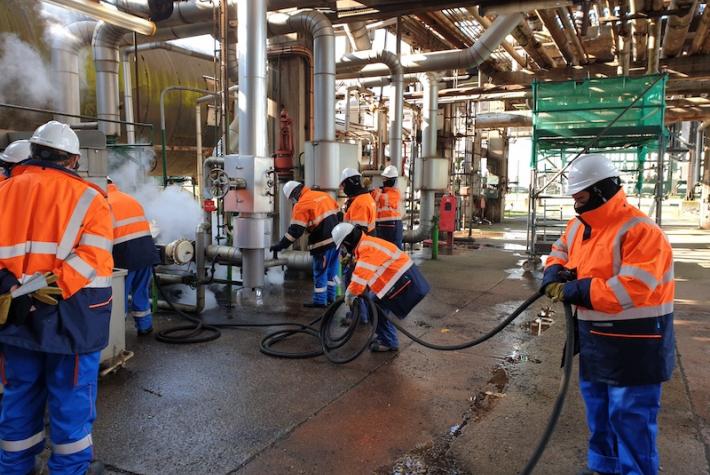 In strict compliance with health regulations, a group of 12 students from IFP School's Processes for Energy and Chemicals Center took part in a field trip from February 8 to 10 at the Total Oleum Training Center in Dunkirk.

During three days, Joanna Barakat, Anissa Benzerfa, Adrien Diers, Anna Drelon, Tom Grall, Alain Harb, Hugo Millet, Sébastien Navet, Jean-Baptiste Puechmaille, Philippine Rimaud, Julie Roude and Julie Sanlias, all students in the Energy and Processes and Processes and Polymers Master's programs, explored a full-scale industrial site, today a teaching technical platform.

Following the School's leitmotiv, learning by doing, the students learned by experimenting and performed a series of exercises, including:

 
starting up a pump and a compressor;
inspecting a distillation column and an industrial furnace according to the operating procedure;
conducting safety audits;
blinding lines.
"It was an exceptional and rewarding opportunity to be able to acquire different job skills in a friendly atmosphere. Sometimes, as a young engineer, you have to wait 4 to 5 years until the units are shut down to have such an experience. In 3 days, I was able to examine the equipment, and grasp the difficulties of the field in sometimes difficult conditions…in a nutshell, it was a great experience!" says Julie Roude. 

Olivier Bernaert, Associate Professor and head of the Lab'Innov, IFP School's digital culture laboratory, and the team of Total Oleum instructors supervised the students.

IFP School would like to thank the entire Total Oleum team, in particular Sébastien Bailleuil, Corinne Delpuech and Hervé Devriendt, for their warm welcome, the remarkable organization and the quality of the practical exercises.

View the photos of the field trip

Photos copyright: IFP School - Joanna Barakat