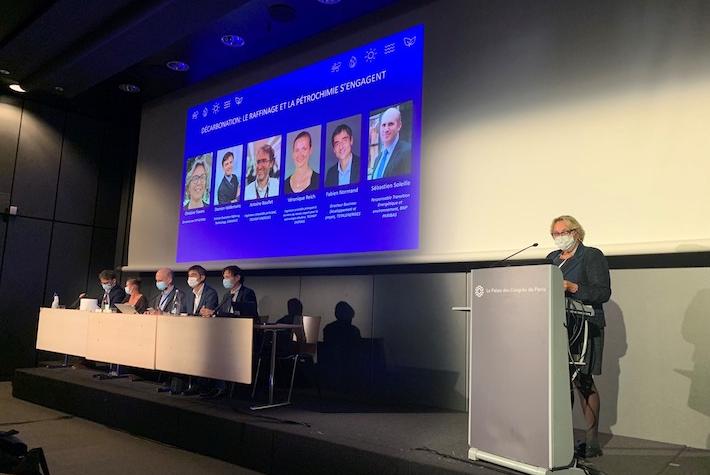 As every year, IFP School and its students participate in the EVOLEN Days. On October 13, the School took part in two workshops on decarbonation and plastics.

The first workshop, entitled "Decarbonation: refining and petrochemicals committed", took place from 11:45 am to 1:15 pm and was chaired by Christine Travers, Dean of IFP School. During the workshop, four presentations were given on clean fuels, the role of blue hydrogen, biomass valorization and the financing of the energy transition.

In the afternoon, Valentine Maslin, a student in the Processes and polymers program, chaired the "Zero plastic waste does not mean zero plastics" workshop (2:15-3:45 pm). Among the facilitators of this workshop was Mr. Xavier Milcent, a graduate of the EGE program (class of 1994) and EU & AP Chemical Recycling Ventures Commercial Manager at ExxonMobil.

In addition, many IFP School graduates actively contributed and/or participated in the EVOLEN Annual Days.

Mr. Jean Cahuzac, President of EVOLEN and a graduate of the FOR program (class of 1977), opened the event on October 12.

That same day, Ms. Alexia Genin, a graduate of the Energy and Markets program (class of 2011) and CCS Business Development Manager at TotalEnergies, spoke in the workshop on the deployment of CCS and the challenges of its deployment in France.

Later in the day, Mr. Grégory Guilbert, a graduate of the RIG program (class of 2000) and Engineering Manager at Saipem, participated in the workshop entitled "Project in Mauritania - Senegal: BP Grand Tortue". Nicolas Maurisset, a graduate of the RIG program (class of 1999) and Commercial Director at TechnipFMC, co-facilitated the workshop on offshore hydrogen production. The next day, Mr. Moez Ajmi, graduate of the EEN program (class of 2005) and Partner at Ernst & Young, presented the 2021 Overview.

Then, Mr. Laurent Blaisonneau, a graduate of the RIG program (class of 2009) and Managing Director of the Paris office of ENEA Consulting, chaired the workshop on the actors of the biogas market transformation.

The workshop on "Drilling differently" was chaired by Mr. Jean-Claude Choux, a graduate of the FOR program (class of 1981) and Asia-Pacific Project Manager at TotalEnergies.

Mr. Georges Mosditchian, a graduate of the GOP program (class of 1974) and EVOLEN's International Affairs Delegate, co-presented the "MyEnergyLink" platform.

Finally, Ms. Isabelle Le Nir, a graduate of the GOL program (class of 1985) and Interpretation Engineering Manager at Schlumberger, chaired the workshop dedicated to the subsoil in the context of the energy transition, in which Hadrien Dumont, a graduate of the DEG program (class of 2000) and Reservoir Technical Director at Schlumberger, also participated.

IFP School, committed in the ecological transition!

Browse the complete program of these days.