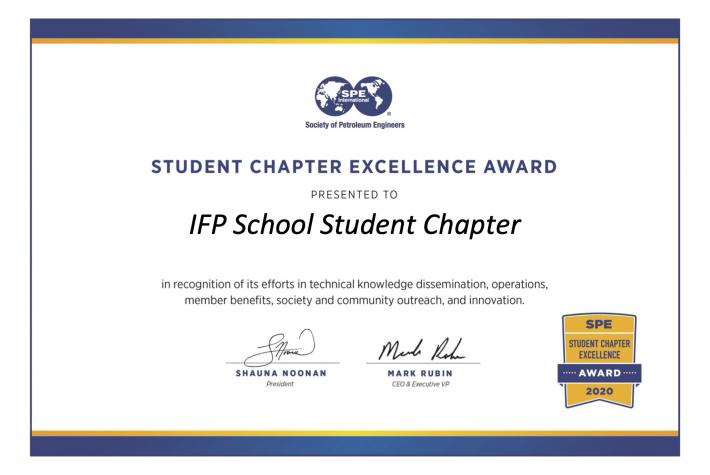 The Society of Petroleum Engineers (SPE) has just awarded its Student Chapter Excellence Award to the IFP School SPE Student Chapter (Class of 2020).

This is the second highest award a student chapter can receive. It is awarded to 20% of the 396 student chapters worldwide.

"We know that the past year has been unique," said the SPE in its official statement. "The award is in recognition of your programs in the areas of industry engagement, operations and planning, community involvement, professional development and innovation," she continued.
 
IFP School would like to congratulate its SPE Student Chapter, in particular the Executive Board made of: Thomas Pichancourt (President), Liam Bauer and Thayná Xavier Barbosa (Vice Presidents), Osakpolor Ebenezer Eriyo (Membership Chairperson), Kamilla Soares Luz (Secretary) and Valentin Amauger (Treasurer).

Created in 1996, IFP School's SPE Student Chapter is the oldest branch of the SPE in France. Very active, it aims to promote the exchange of technical knowledge between students through conferences and meetings with professionals from the energy sector.

It currently brings together 217 students with about 50 active members, mainly from the Petroleum Engineering and Project Development (DEG), Reservoir Geoscience and Engineering (RGE), Petroleum Geosciences, Energy and Processes (ENEP) and Polymers and Processes (POLY) programs.

This is the fifth time that IFP School's SPE Student Chapter has received an award from the SPE International.

The Chapter holds three Gold Standard Awards (2013, 2015 and 2018). In July 2019, it won the Presidential Award for Oustanding Student Chapter, the highest award for student chapters.

In March 2020, five members of the SPE Student Chapter qualified for the finals of the 2020 Petrobowl Championship, which will take place at the Society of Petroleum Engineers Annual Conference on October 5th.

This year, the IFP School Student Chapter was to travel to Brazil on a study tour to meet with a panel of oil companies and organizations. Due to the current health situation, the team organized a series of webinars in early June with several Brazilian onshore and offshore companies. In total, the week of webinars attracted several hundred students and industry professionals.