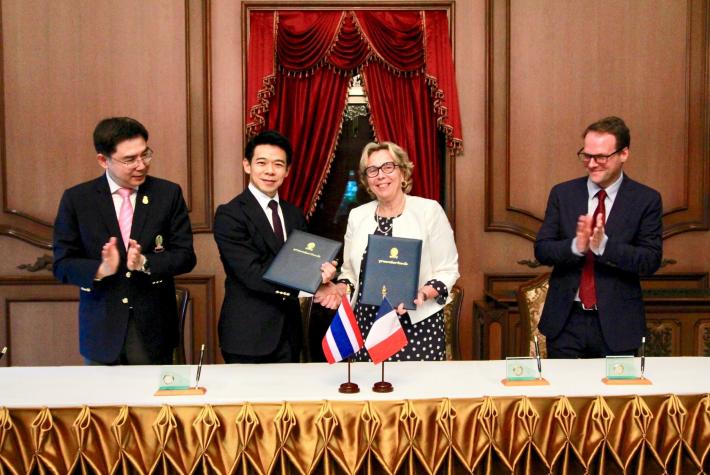 During a seminar organized by the Petroleum and Petrochemical College of Chulalongkorn (Thailand) to celebrate its 30th anniversary and its early partnerships, Christine Travers, Director of IFP School, renewed a cooperation agreement on December 18 in Bangkok, with Professor Suwabun Chirachanchai, Director of the College, in the presence of Guillaume DA, Scientific and Academic Cooperation Officer of the French Embassy in Bangkok, and the President of Chulalongkorn University, Professor Guillaume DA. Bundhit Eua-arporn. The two institutions will thus continue to work together for the next three years as part of the "Petroleum Technology and Energy" master's degree of the Thai University and will work to extend their partnership in the field of petrochemistry.
Christine Travers also visited the team of the National University of Singapore (NUS), an IFP School partner, on December 19 to discuss the new joint master's degree in Petroleum Projects and Offshore Technology, which will start in August 2019. NUS and IFP School are planning to extend their collaboration with a second joint master's degree in the field of gas.
These meetings are part of the school's reinforced strategy to develop internationally through agreements and academic cooperation with prestigious universities, in particular to train talented people working in Asia.