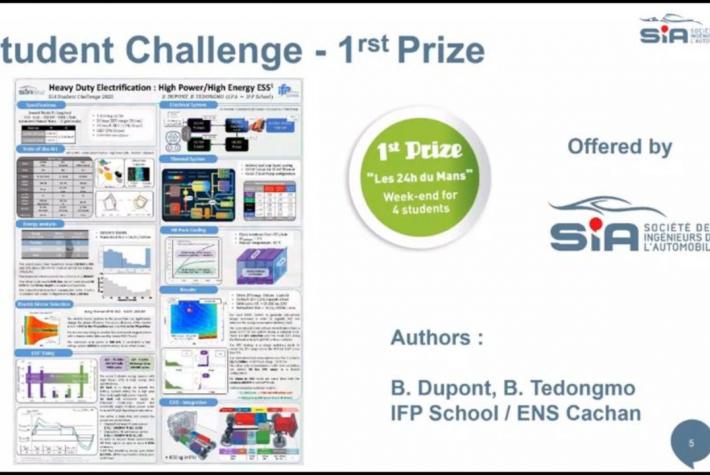 Two IFP School teams won 1st and 3rd prizes of the Student Challenge organized by the Société des Ingénieurs de l'Automobile.

The team made of Benjamin Dupont (France) and Bradon Tedongmo (Cameroon), both students enrolled in the research-oriented master's program in Electrification of Automotive Propulsion (EPA) in collaboration with the ENS Paris-Saclay, took home the first prize thanks to their project on the electrification of a 44-ton vehicle.

Throughout the entire year, they were guided by Philippe Pierre, IFP School supervisor of the EPA master's program.

Their project was also supervised by Guillaume Colin, Yann Chamaillard and Alain Charlet, all three from Polytech Orléans, as well as by Pierre Michel, a data control and analysis engineer at the Digital Science and Technology Division of IFP Energies nouvelles.

Alfonso José Peñin Garcia (Spain), Emmanouil Parastatidis (Greece), Luiz Afonso Ditzel Filho (Brazil) and Roy Saber (Lebanon), all students of IFP School's Powertrain Engineering program, were awarded 3rd prize for their innovative solution which integrated hydrogen into the propulsion system.

They were coached by Ouafae El Ganaoui-Mourlan, Manager of the Powertrain Engineering program and co-holder of the Chair "Electric, Connected and Autonomous Vehicle for smart mobility chair", and by El Hadj Miliani, a teacher at IFP School's Powertrains and Sustainable Mobility Center.

This is the second consecutive year since the launch of the challenge in 2019 that IFP School comes in first place. Last year, two teams from the Energy nd Powertrains and Powertrain Engineering programs won 1st and 2nd prizes in the competition for their work on the hybridization of ultra-light vehicles.

IFP School would like to congratulate its brilliant students on this victory, which highlights their training!