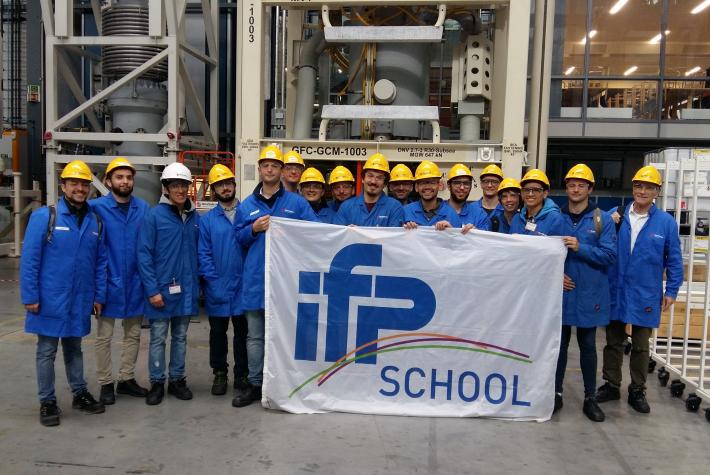 From June 23 to 28, 2 groups of students from the Petroleum Engineering and Project Development program visited the facilities of industrial partners in Norway and Italy.
"Field visits are organized every year for our students. The aim is to make the concepts covered during the courses concrete and above all to offer them the opportunity to discover in situ the reality of oil and gas production as well as geothermal production, with the specific features of each country," summarizes Antoine Couturier, Head of the Petroleum Engineering and Project Development Program.
In Italy, students were received at Eni for a visit to the production centre of the largest onshore hydrocarbon field in Europe, at Enel Green Power to visit a geothermal site (production well and power plant), at Saipem for activities related to offshore natural gas production and to learn about robotic tools for remote testing and maintenance. They also visited the Tenaris steel tube factory, which is particularly noteworthy for its environmental friendliness. Finally, the students visited the BHGE turbomachinery manufacturing plant, which has a state-of-the-art control centre for remote maintenance monitoring and a training centre using virtual reality.
In Norway, our students were received by Equinor to see the engineering and installations involved in the development of offshore oil fields. They visited the North Sea Gas Network Management Centre of operator Gassco, a laboratory of Sintef specialising in the study of multiphase flows, a plant manufacturing polyphase subsea pumping modules at OneSubsea, and finally, they were welcomed to the Siemens site in Trondheim to learn about the subsea electricity distribution network.
As a follow-up to the awareness raised during the courses, the students were able to see first-hand the commitment of our industrial partners in terms of social responsibility and safety in the field.
Thank you to all our industrial partners for their hospitality and the sharing of valuable experience for our students!