On 6 September, IFP School's Georesources and Energy Center, together with Lab e·nov, IFPEN's digital culture laboratory, organized an original event for its new recruits: a serious escape game.

Some sixty students from the Center's four programs (Petroleum Geosciences, Reservoir Geoscience and Engineering, Petroleum Engineering and Project Development and Petroleum Data Management) took part in the game, which took place over half a day on the Rueil-Malmaison campus.

The students were divided into 12 teams of 5 and played the role of researchers. After watching a video explaining the rules of the game, they set off to discover the site, equipped with a backpack, a map and a smartphone. Their objective: solve seven puzzles to find a code hidden in a safe that would lead them to the "Professor", the only person who could help them save the world!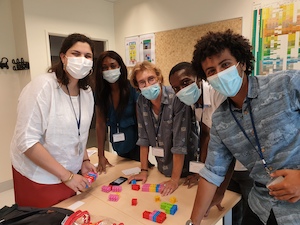 In a cheerful and light-hearted atmosphere, the students learned about their future jobs, the technical and non-technical skills to be acquired, the challenges to be tackled in geosciences and the major implications of the energy transition.

"This serious escape game is a very effective teaching tool, which enables us to convey key messages in a fun way and to encourage cohesion between students," explains Mathilde Adelinet, a lecturer in geophysics at IFP School and co-designer of the game.

"For the game to run smoothly, participants need to collaborate and exchange information, which in turn facilitates team building," she adds.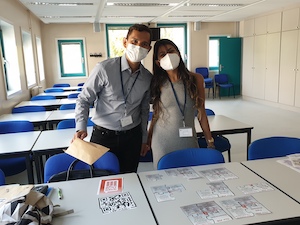 The experience was also a first for the School's teaching staff, several of whom donned white coats for this special occasion. At each step of the course, Mathilde Adelinet, Olivier Bernaert (head of Lab e·nov), Carla Castillo (manager of the Reservoir Geoscience and Engineering program), Karine Labat (manager of the Petroleum Data Management program), Jérôme Laval and Arnaud Torres (both teachers) greeted the students who were looking for clues. Frédérique Fournier, Director of the Georesources and Energy Center, also took part in the game, playing the role of the famous "Professor".

Daniel Sejas Kapustiak, a Bolivian-Russian student from the Reservoir Geoscience and Engineering program, loved the proposed scenario and the original approach that allowed him to explore the campus while getting to know students from other programs.

"I had never taken part in an escape game. I really enjoyed solving the challenges. Thinking outside the box is one of the best ways to solve problems!" he stressed.

Author of the article: Meyling Siu