Managing a multicultural team, negotiating internationally and making a sales pitch are some of the skills that IFP School students are able to apply in the Professional Skills Module (PSM), traditionally offered at the beginning of the academic year.

Taught entirely in English and lasting four weeks, this module is intended for non-apprentices and alternating Bac+4 students at the School.

The PSM relies on project-based teaching and role-playing to teach students key skills relating to the business world and intercultural issues.

"This cross-disciplinary module is designed to prepare them for professional realities by enabling them to confront the challenges of the profession," explains Pierre-Yves Déquirez, head of the PSM and Associate Professor at IFP School's Georesources and Energy Center.

"To develop in an increasingly competitive and international job market, an IFP School engineer must be able to rethink his or her profession, work in a team and navigate a multicultural environment," notes Victor Court, co-leader of the module and teacher-researcher at the Energy Economics and Management Center.

"In this context, it is no longer just about technical skills. This is why we are focusing on the acquisition of soft skills. The qualities of openness, adaptability, cooperation and innovation are strategic today," stresses Pierre-Yves.

This year, due to the health crisis, the module was run for the first time entirely remotely, from 4 to 29 January 2021.

Some 50 students from 16 countries and from six IFP School Masters programs worked on three projects:
Innovation and entrepreneurship – supervised by João Silveira and Olivier Bernaert from Lab e·nov, IFP School's digital culture laboratory: this project enabled the participants to learn about innovation management (see Focus below).
 
Is Covid-19 the only way to significantly reduce CO2 emissions? – supervised by Jean-Pierre Deflandre, teacher-researcher at the Georesources and Energy Center and co-holder of the CarMa Chair. In this project, students examined and learned from the record drop in CO2 emissions in 2020 driven by the coronavirus crisis. They studied negative emission technologies and proposed sustainable economic solutions for reducing global warming by 2050.

Together with two classmates from the class of 2021, Hervé Balla, a Cameroonian student in the Energy and Products program, produced a podcast on the impact of the Covid-19 pandemic on CO2 emissions in the transport and energy sectors.

"What I really liked is that I could communicate with students from other programs. In addition, this year we had the challenge of working together remotely," he reports.
The role of biomass in the energy transition – supervised by Fadhel Ben Chaabane, a researcher and biofuel specialist at IFP Energies nouvelles (IFPEN). Divided into three sub-groups, the students examined the specific characteristics of biomass and its role in reducing greenhouse gas emissions in the transport sector. In particular, they explored the advantages of first- and second-generation biofuels as well as the benefits of hydrogen.

The PSM is one of the occasions where students from the School have the opportunity to collaborate with peers from other programs.

"Interdisciplinarity is a training experience," observes Pierre-Yves. "In the future, they will have to work with various profiles."

Along with the projects, the students personalized their educational path thanks to 18 elective courses on the business world, interculturality and teamwork, corporate social and environmental responsibility, project management and discovery of the energy sectors.

Throughout the module, they also benefited from professional coaching. IFP School teachers, IFPEN researchers and/or industrialists helped them organize and move ahead with their projects by guiding them in their research and generating debates within the team.

Focus on the "Innovation and entrepreneurship" project

Introduced in 2017, the "Innovation and Entrepreneurship" project affords students an opportunity to immerse themselves in business creation. All facets are covered: from the submission of ideas through the development of a business model and a marketing plan to the final pitch before a panel of investors.

"The aim is to get our students to work in project mode on a real subject, to help them develop their ability to innovate and to unite a team," explains João Silveira, a teaching engineer at Lab e·nov, who is supervising the project.

"We try to take them out of their usual comfort zone by challenging them with new concepts and tools in order to stimulate their creativity," he adds.

For the 2021 edition, students focused on three themes: ecology, plastic recycling and renewable energy.

Mateus Aguiar, a Brazilian student in the Processes and Polymers program, and four other students designed P3D, a 3D printer capable of recycling plastic bottles and generating its own filament spool.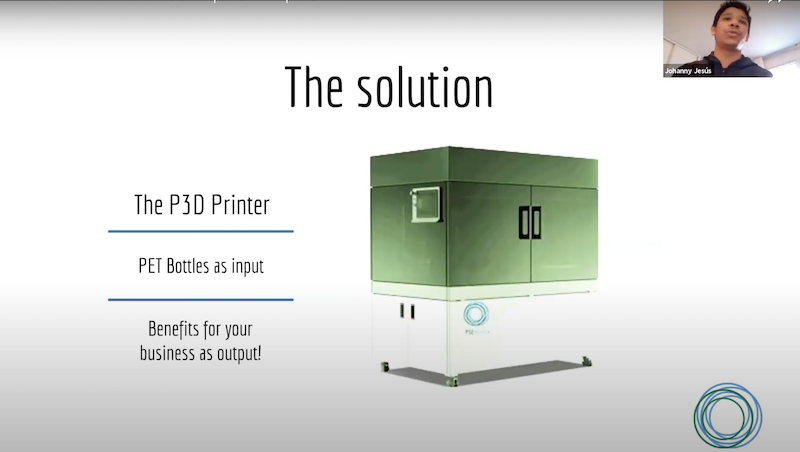 Mateus particularly appreciated not only the openness to new tools and ways of thinking but also the sharing with students from different backgrounds.

"To arrive at the solution presented, our group went through many debates and disagreements. For me, this was necessary to learn how to behave and act in these situations. We learned to listen, to summarize our ideas and to work towards a common goal", he remarks.

Author of the article: Meyling Siu