For over 20 years, IFP School has selected a patron per graduating class, someone amongst the leading figures in the Energy and Powertrains sectors.

CEO, senior executives or institutional decision-makers, each and every one of these prestigious patrons have shared over the years their vision of the Energy industry, the challenges they had to face at the time, as well as the opportunities to innovate that have arisen with the ecological transition.

22 of them have shared their experiences with the School's students, detailing their stand on the main Energy issues, their position and strategies deployed by their firm or institution to meet the challenges they were facing.

"There is far more to this ceremony than giving a simple speech," says Christine Travers, Dean of IFP School. "It is an amazing opportunity for our students to discuss future issues with experienced leaders who have their finger on the pulse. It is also the chance for them to glean valuable advice for their future career paths."

Amongst the well-known personalities who have provided their support to IFP School's students, four of them have graduated from our School:
Josep Borrel Fontenelles (ECO 1971), former President of the European Parliament and patron of the class of 2000;
Benoît de la Fouchardière (DEG 1997), Group General Manager of Perenco and patron of the class of 2020;
Pierre Gadonneix (RAF 1966), former Chairman of EDF and patron of the class of 2006;
Thierry Pilenko (GOL 1981), former Chairman of Technip and the only one to have been the patron of two classes, first in 2008 and then in 2017.
Patron of the Class of 2022

This year, IFP School was honored to welcome Linda Jackson, Peugeot CEO, as the patron of the Class of 2022. The Patronage Ceremony took place on Monday, May 23 in the Dahlias amphitheater at IFP Energies nouvelles (IFPEN), in the presence of Pierre-Franck Chevet, Chairman and CEO of IFPEN and Christine Travers.

Linda Jackson, a British national with an MBA from the University of Warwick, was named in January 2021 at the head of Peugeot, a member of the Stellantis Group – the large automobile corporation formed after the merger of PSA and Fiat-Chrysler.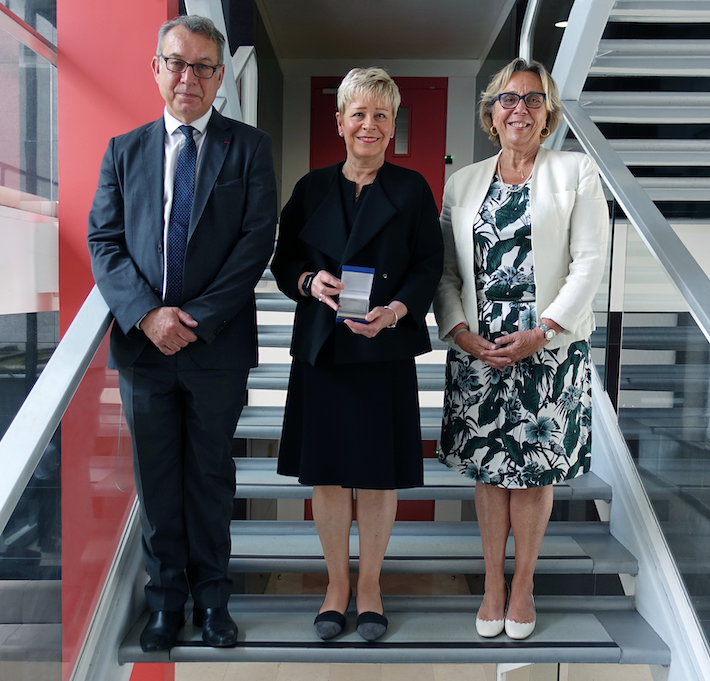 Mrs. Jackson has spent her entire career in the automotive industry. She began within the Rover Group where she held several positions in the UK before becoming Regional Finance Director for Rover Europe.

In 2005, she joined the PSA Group as Finance Director of Citroën in the UK and then Citroën France. In July 2010, she was appointed Chief Executive Officer of Citroën Great Britain and Ireland. Four years later, she became head of Citroën and a member of the PSA Global Executive Committee.

In January 2020, Mrs. Jackson was appointed to head the development of the consumer brand portfolio, and shortly after the creation of Stellantis in January 2021, Carlos Tavares appointed her CEO of Peugeot.

All the students in the engineering programs converged to IFPEN's largest amphitheater to welcome their patron for the morning session. Pierre-Franck Chevet opened the ceremony by introducing Linda Jackson who started her presentation by giving an overview of her professional background. She finished on an exciting note with the unveiling of the new Peugeot 9X8, the hybrid hypercar that has caused a storm for not having a rear wing.

Mrs. Jackson used this car as an example to illustrate the importance of Engineering, Design and Marketing at Peugeot and to underline the brand's ability to be creative and adaptive.

After introducing Stellantis and the group's portfolio of brands, Mrs. Jackson presented Peugeot's electrification strategy and its multi-energy offer.

She also gave an overview of how the industry is evolving, covering topics such as the energy transition, mobility as an experience, digital mobility and the market's fragmentation and volatility.

Finally, she was keen to salute the 40-year partnership between Peugeot and the School, pointing out that 13 students from IFP School's Class of 2022 are currently apprentices at Stellantis.

"This is a win-win partnership for both parties. Together we are working on key technologies that will impact our cars, on how we move forward, including on matters such as hybridization, electrification and hydrogen-fueled engines," she stated.

Following her speech, a Q&A session took place with two students acting as spokespersons for the whole Class. The ceremony ended with Christine Travers presenting the Class Medal to Mrs. Jackson and by taking the traditional souvenir photograph.

Author of the article : Meyling SIU