Before setting off on your summer holidays, IFP School invites you to (re)discover its Rueil-Malmaison campus and benefit from a virtual reality tour of the premises.

Designed by the LAB e·Nov™ team, this virtual tour will allow you to explore at your own pace, all of the School's key areas.

Feel like you are walking through the training rooms and discover all the campus's equipment thanks to 360° photos enhanced with videos and text. Move easily from one space to another, and don't hesitate to use the fold-out menu on your left.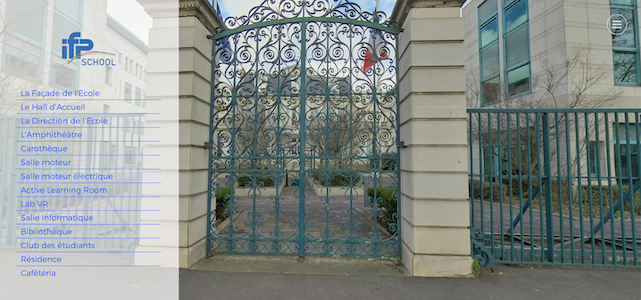 After entering the School and going up the steps of the Duchess of Segovia building, you will be taken through to the classrooms and the various application areas, such as the geological core library, the engine rooms and one of the computer rooms, all of which are set up for a learning-by-doing teaching approach.

The journey continues with a tour of LAB e·Nov™'s premises, in particular the Active Learning Room and the Virtual Reality Laboratory, and finishes off with the students' recreational areas such as the Students' Club, the halls of residence and the Yuccas restaurant.

At the end of your immersive trip, we invite you to share your comments, suggestions and/or memories by email to alumni-ifpschool@ifpen.fr.
Author of the article : Meyling SIU