The year 2022 marks the 10th anniversary of IFP School's annual Alumni Fund. This is the perfect opportunity to look back and asses this solidarity initiative that contributes to the development of both IFP School and its students.

The origins of the Alumni Fund

The Alumni Fund was created in June 2012 at the initiative of IFP School and in partnership with the Fondation Tuck, recognized of public utility.

Faced with increased global competition and a decline in public funding, the School wanted to secure additional resources essential to its development.

The objective of the fund is to collect private funds from IFP School graduates to finance Excellence Scholarships and innovative educational projects.

As part of its fundraising strategy, the School does two major fundraising appeals per year, one during the admission period (May) and one at the end of the year (November-December). However, it is possible to make gifts throughout the year via the Fondation Tuck's website.

The impact of the Alumni Fund

Since its beginnings, the Alumni Fund has contributed to many of IFP School's great achievements and to the success of its students!

Over the last ten years, thanks to the generosity of the IFP School Alumni network:
16 brilliant students have been awarded an Excellence Scholarship;
a MOOC on sustainable mobility was launched in 2014 and followed by more than 14,000 people from 110 countries, over its three editions;
a field course was sponsored as part of the launch in 2016 of the Advanced-master degree® "Petroleum Data Management" (now called "Geo Data Management for Energy Mix");
In 2023, IFP School's Powertrains and Sustainable Mobility Center will acquire a module dedicated to test-benching electric engines.
"In addition to these numerous achievements, this approach has strengthened our Alumni network by federating a community of graduates who look over and support our students year after year; it also reflects one of the School's core values: solidarity. We are grateful for our graduates' deep commitment" notes Christine Travers, Dean of IFP School.

How to contribute?

This year, IFP School continues its fundraising activities. The School has just launched a new appeal asking its graduates to contribute to the financing of two new Excellence Scholarships and/or the acquisition of specialized equipment dedicated to creating prototypes designed during students' projects. The objective of this campaign is to collect at least 31 600€.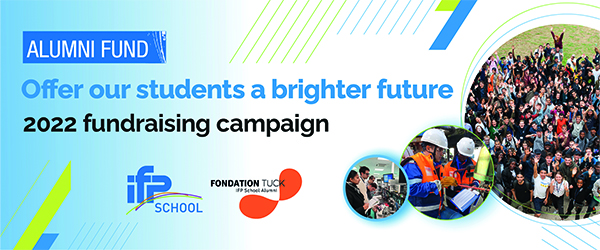 If you would like to help raise funds for the Alumni Fund, you can donate:
by credit card (via our 100% secure platform);
by bank transfer to the account of the Fondation Tuck with "Alumni Fund + your NAME + First name" as payment reference

IBAN: FR76 3148 9000 1000 2615 7766 947
BIC: BSUIFRPP
Address: CRÉDIT AGRICOLE CIB, 12 Place des États-Unis, 92547 Montrouge Cedex - France ;

by check to the order of the Fondation Tuck, to be returned to the following address
Fondation Tuck, 1 et 4 avenue de Bois-Préau - 92852 Rueil-Malmaison Cedex-France.
Your gift must be made in the name of the Fondation Tuck, which is responsible for collecting and managing the funds of the annual appeal.

IFP School would like to thank its donors for their valuable support, which has a strong impact on students in the short-term and an invaluable impact over time.

Article written by Meyling Siu